Not-for-Profits
Photo courtesy of (CASA) of Kern County.
Court Appointed Special Advocates (CASA) of Kern County is a
not-for-profit organization and client of BHK. The organization
speaks for abused and neglected children in the juvenile
dependency process.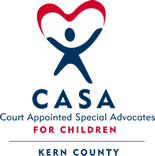 To learn more about CASA of Kern County visit their website at www.kerncasa.org
Click here to view a list of some of BHK's
Not-for-Profit Clients
Barbich Hooper King Dill Hoffman has worked with not-for-profit organizations for over 35 years. Our not-for-profit clients have included charities, religious organizations, educational institutions, community groups, foundations, and cultural organizations.
We recognize the important role not-for-profit organizations have in our world today. They often have limited resources and budgets, yet they move forward with their mission. Additionally, they have to comply with special requirements and report to regulatory bodies to maintain their not-for-profit status. While their challenges are similar, no two not-for-profits are the same. Our professionals understand this and work with each not-for-profit on an individual basis to meet their diverse needs.
Our professionals are experts and understand the operations of exempt organizations and their unique requirements for audit, tax compliance, and consulting services. We have a team of professionals devoted to not-for-profits. Our professionals can provide each not-for-profit client with the services they need, unique to their situation:
Applications for non-for-profit status with the IRS
Audited financial statements
OMB Circular A-133 audits
Reviewed financial statements
Agreed-upon procedure engagements
Federal Form 990, 990-PF and 990-T preparation
California Form 199 and RRF-1 preparation
Cash flow planning
Long-term planning
Internal Control evaluation
Cost allocations
Bookkeeping services
Development of accounting procedures and practices
Financial planning and budgeting
Employee benefit plan audits
Employee benefit plan administration
Payroll tax return preparation and submission